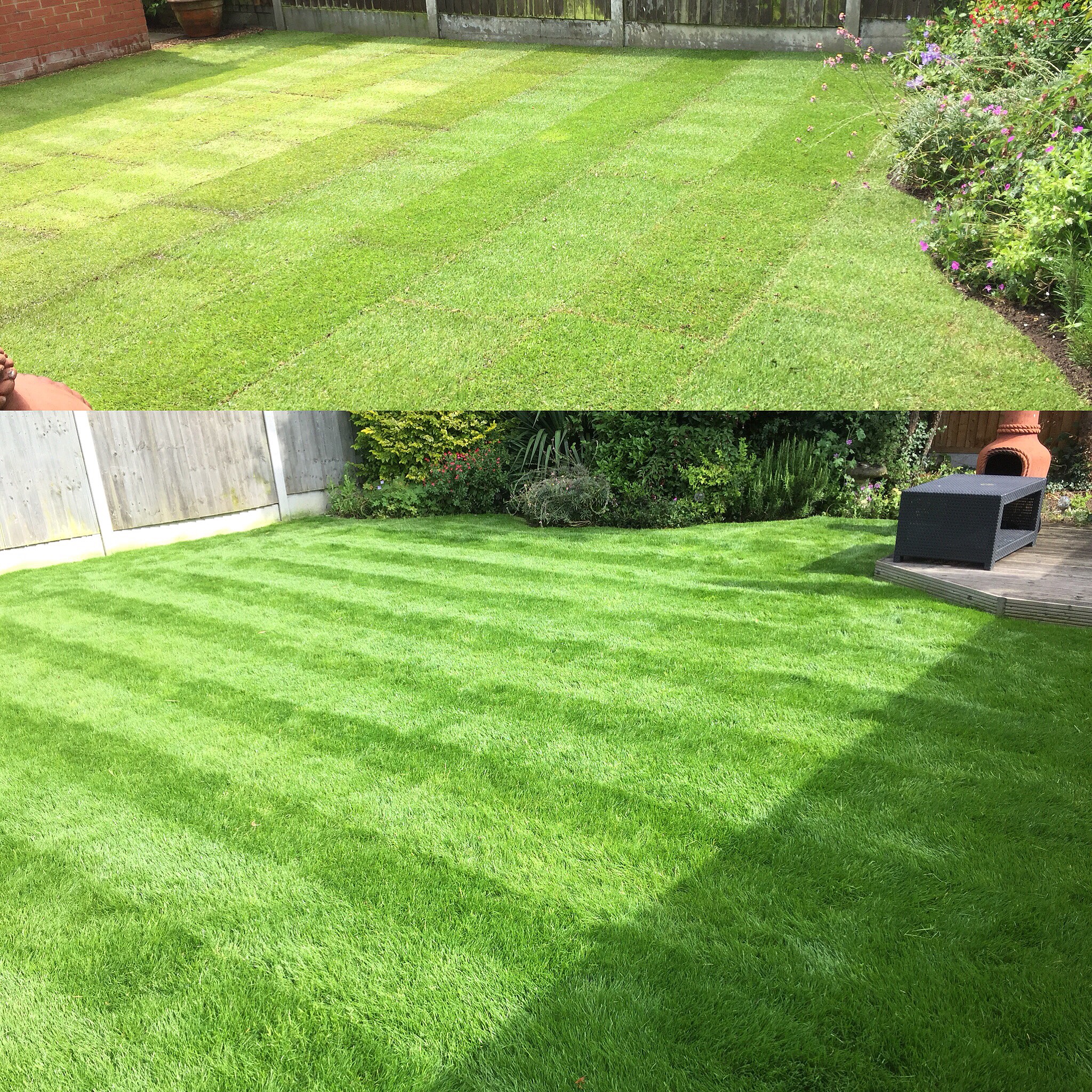 Laying a new lawn is a simple and quick way to revive a tired looking garden. Overnight your garden can be transformed into a lush and tranquil haven. From contemporary spaces to more formal gardens, a healthy lawn can be a vital element in achieving the right look. Newms Landscapes can offer you turfing and seeding services as well as seasonal lawn care services to protect your valuable outdoor space.
TURFING:
The main advantage in using turf rather than seed is that you will have an instantly usable lawn allowing an immediate finish, and year-round installation. Once laid, the lawn needs no more care than you would furnish on an existing lawn, with perhaps the exception of irrigation for two weeks if laid during the growing season.
SCARIFYING:
Scarification is an essential operation. A light scarification is carried out in Spring and a more intensive scarification in Autumn. It is best combined with other operations such as top dressing, over seeding, applying fertiliser and aerating all described below. We do stress where scarification is combined with other planned works it should be completed first. Scarification in a nutshell removes material, probably in the form of thatch or moss that will otherwise prevent good dense grass growth. Effective scarification will improve the quality of the lawn and it will also improve the effectiveness of the other operations that follow.
SEEDING:
The turf industry has developed significantly, providing a fast food-type fix, and today seeding is used to provide a domestic lawn purely on economic grounds. Seeded lawns have two sowing windows per year – April/May and September/October, and will take a full season of knowledgeable and fairly intensive care to establish into a perfectly finished lawn. Seeding requires the preparation of an extremely fine seedbed in addition to all the other works appropriate to both turf and seed, and it is also common for over seeding to have to be carried out during establishment to infill any areas of weak germination.
WEED AND FEED:
There are two windows once again for the application of weed and feed to any lawn. April/May and September/October and Ideally after any scarification has been carried out. By applying fertiliser into the lawn this helps the grass fight off the stress of the scarifying and will help protect it against disease. Not only this but weed and feed will promote the growth of grass while eliminating weeds from sprouting.
AERATION:
Aeration is the key to healthy turf and lawns. Newms Landscapes includes this as part of our grass cutting and lawn treatment services and is carried out twice a year. Once in Spring and again in Autumn. Regularly aerated turf will allow air and water to penetrate built-up grass or lawn thatch therefore improving the appearance of any lawn.